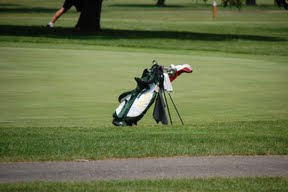 With a few days of good weather and lower temperatures coming at us this week, we'll be taking advantage and performing some maintenance practices that have fallen behind due to this spring's weather.
Monday we will be paving the paths on #9 Lake and #18 Hill to eliminate our severe washout problem. Between that and the large 8am shotgun start on the Hill Course, that will pretty much do it or the day.
On the other days we will be topdressing and verticutting greens, applying fertilizer to all areas, venting greens with needle tines on the aerifier, repairing cart paths, etc.
The greens venting will not interfere with putting quality but is greatly needed following the intense rolling and mowing last week during the NJCAA Championships. The venting opens up the soil to allow water and air to do their thing for plant health using 1/4 inch solid tines.